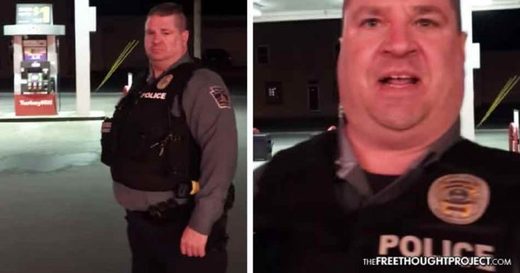 The Free Thought Project received a tip involving interaction with a Mount Joy Borough Police Officer and two men. A
video
was sent to us with the following title, "Mount Joy Borough, PA Police Officer Smith, Strikes and Harasses Local Latino, Gay Male."
They used to be called "Liquor Cycles" as the two-wheeled gas powered scooters were the only personal transportation option for those who'd been convicted of Driving Under The Influence (DUI). Now, with many states requiring insurance, license plates, and registration, liquor cycles are now just an economical way to get around.
But for two men, who stopped at a local gas station for slushies, the night took a turn for the worse when they ran into a police officer, who supposedly called one of them a "dick wad." That's when the video begins.
The officer, whose last name is allegedly Smith, proclaimed, "If you want to go out there and start putting out things, why don't you start trying to tell the truth for once," the officer said. "I didn't call you a dick wad, you just called me a douchebag," he proclaimed.