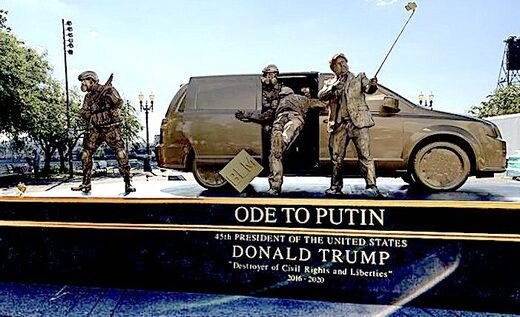 An activist group has unveiled a new 'statue' in Portland, Oregon which
appears to connect Vladimir Putin to allegations of police brutality in the city.
Isn't that a bit xenophobic? Twitter observers have asked.
The collective, known as the Trump Statue Initiative (TSI), used live actors covered in gold, and standing on top of a large pedestal,
to create the impression that a new monument had been installed in the city on Monday.
Their performance art piece showed Donald Trump holding up a selfie-stick and making a thumbs-up sign as men wearing gas masks and riot gear pull a protester holding a 'BLM' placard into a van.
"Ode to Putin"
is written on the statue's pedestal.
TSI is
reportedly
also rolling out an Instagram filter which highlights Trump's allegedly problematic relationship with the Russian president.
The 'statue' appeared to be a satirical take on allegations that federal agents sent to Portland to protect the city's federal courthouse used unmarked vehicles to seize and detain demonstrators without probable cause.