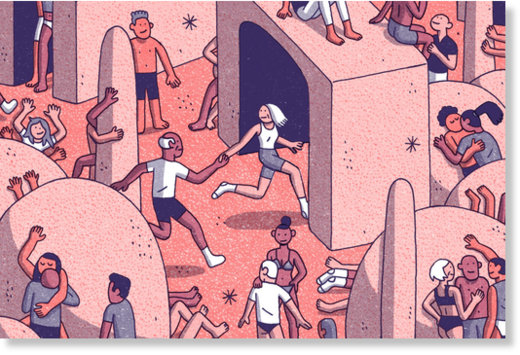 Zhana Vrangalova had hit a problem. On a blustery day in early spring, sitting in a small coffee shop near the campus of New York University, where she is an adjunct professor of psychology, she was unable to load onto her laptop the Web site that we had met to discuss. This was not a technical malfunction on her end; rather, the site had been blocked. Vrangalova, who is thirty-four, with a dynamic face framed by thick-rimmed glasses, has spent the past decade researching human sexuality, and, in particular, the kinds of sexual encounters that occur outside the norms of committed relationships.
The Web site she started in 2014,
casualsexproject.com
, began as a small endeavor fuelled by personal referrals, but has since grown to approximately five thousand visitors a day, most of whom arrive at the site through organic Internet searches or referrals through articles and social media. To date, there have been some twenty-two hundred submissions, about evenly split between genders, each detailing the kinds of habits that, when spelled out, can occasionally alert Internet security filters. The Web site was designed to open up the discussion of one-night stands and other less-than-traditional sexual behaviors.
What makes us engage in casual sex? Do we enjoy it? Does it benefit us in any way—or, perhaps, might it harm us? And who, exactly, is "us," anyway?
Up to
eighty per cent of college students report
engaging in sexual acts outside committed relationships—a figure that is usually cast as the result of increasingly lax social mores, a proliferation of alcohol-fuelled parties, and a potentially violent frat culture. Critics see the high rates of casual sex as an "
epidemic
" of sorts that is taking over society as a whole.
Hookup culture
, we hear, is
demeaning women
and
wreaking havoc on our ability to establish stable, fulfilling relationships
.