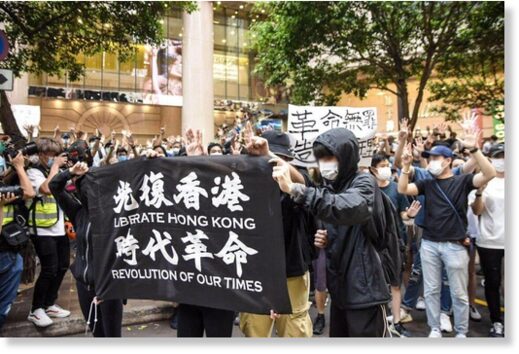 The Hong Kong government has declared that protest slogan "Liberate Hong Kong; revolution of our times," is pro-independence, secessionist and subversive, and thus criminalised under the newly-enacted national security law.
In a statement released on Thursday night, the government claimed that the popular slogan among pro-democracy demonstrators is a call for Hong Kong independence. The authorities claimed that the wording also has the connotation of separating the HKSAR from the People's Republic of China (PRC), changing the legal status of the SAR or subverting the state power, it said.
"The HKSAR government strongly condemns any acts which challenge the sovereignty, unification and territorial integrity of the People's Republic of China. The [national security law] prohibits secession, subversion of state power and other acts and activities which endanger national security. The HKSAR government calls upon members of the public not to defy the law,"
the statement read.
The official remark came a day after 10 people were arrested for violating the national security law at a protest on the 23rd anniversary of the city's handover to China. Some arrested persons possessed and displayed flags, banners and printed materials that featured slogans such as "Hong Kong independence" and "One nation, one Hong Kong."