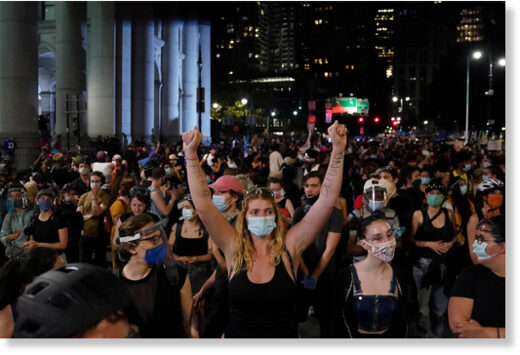 Tensions were high in New York's so-called 'City Hall Autonomous Zone' (CHAZ) on Tuesday night, with protesters mocking cops over their education. The scenes left the demonstrators facing accusations of snobbery and privilege.
Eyewitness footage shot outside City Hall in Manhattan shows protesters berating the police with a torrent of abuse, suggesting the officers are "getting paid to sit there like f**king idiots."
One man in a skirt even twerked in front of the police before launching a verbal tirade, claiming that hairdressers have to go to school for longer than police do and that cops "can't even read a f**king history book."
The beskirted man then directed his abuse at a black officer.
"Traitor, traitor to your f**king people! You're like the f**king black Judas! Selling Christ for f**king 33 cents,"
he shouted while mincing back and forth before the line of cops.
The incident sparked a flood of criticism of the protesters' actions, with many accusing them of displaying an extraordinary level of arrogance. "Confirms what we already knew.
College campuses imbue students with hateful, ahistorical rhetoric and then send them out into the world as smug Marxist clowns
," commentator Erielle Davidson
said
on Twitter.

Comment: That's all that needs to be said about that!