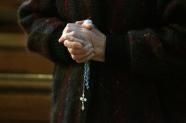 Vienna - Over 800 cases of abuse in Catholic institutions in Austria have been reported so far, a commission tasked with investigating abuse cases announced on Wednesday.
A total 837 abuse victims approached the commission, which was set up by the Austrian Catholic Church last year after it was hit by a wave of abuse revelations, commission head Waltraud Klasnic told a press conference.
Three quarters of the victims were male, with the most cases -- about 20 percent -- reported in northern Upper Austria province, followed by Vienna and western Tyrol, according to a commission report summarising its first-year findings.