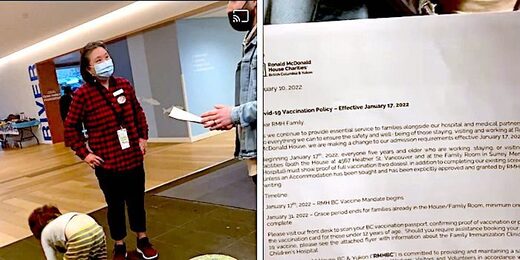 The Ronald McDonald House in Vancouver British Columbia allegedly served an eviction notice on unvaccinated children with serious illness including cancer and their parents.
Austin Furgason
, from Kelowna, British Columbia, the father of a 4-year-old boy with leukemia who has been undergoing treatment since October,
posted the video to Facebook
showing a letter from Ronald McDonald House Charities - British Columbia & Yukon that made the announcement of the evictions.
A
GoFundMe
has been set up to help the family with costs. He wrote:
"All tenants, adults and children over the age of 5 who are not vaccinated are out by the end of January. How absolutely wicked and vile. They are evicting my son with leukemia and any other children or adults who are suffering with sick children into the snow. The Covid cult is far more dangerous than Covid. If they will evict families with cancer, what won't they do."
The letter in the video, which was provided to
True North
dated January 10, 2022, said that everyone five years and older unvaccinated against the coronavirus can no longer stay at the facilities.
"Beginning January 17, 2022, everyone five years and older who are working, staying or visiting our facilities (both the House at 4567 Heather St. Vancouver and at the Family Room in Surrey Memorial Hospital) must show proof of full vaccination (two doses), in addition to completing our existing screening, unless an Accommodation has been sought and has been explicitly approved and granted by RMHC (Ronald McDonald House Charities) in writing."
Families already in the facility have a grace period to get at least one dose of the vaccine which ends on January 31.