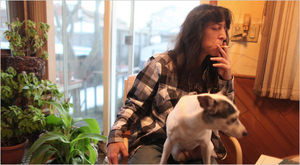 The cigarettes Audrey Silk used to smoke - Parliament Lights - are made at a factory in Richmond, Va. The cigarettes she smokes these days are made and grown in Brooklyn, at her house.
Ms. Silk's backyard is home to raspberry and rose bushes, geraniums, impatiens and 100 tobacco plants in gardening buckets near her wooden deck. Inside her house, around the corner from Flatbush Avenue, in Marine Park, she has to be careful stepping into her basement - one wrong move could ruin her cigarettes. Dozens of tobacco leaves hang there, drying on wires she has strung across the room, where they turn a crisp light brown as they age above a stack of her old Springsteen records.
She talks about cartons and packs in relation to crops and seeds. Planted in 2009, her first crop - 25 plants of Golden Seal Special Burley tobacco - produced nine cartons of cigarettes. Ms. Silk would have spent more than $1,000 had she bought nine cartons in parts of New York City. Instead, she spent $240, mostly for the trays, the buckets and plant food.