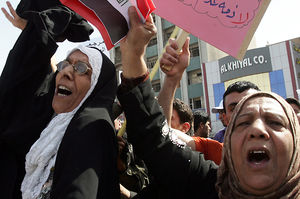 Thousands of Iraqis take to the streets across the country to protest against corruption and unemployment.
Thousands of people have converged on Baghdad's Tahrir, or Liberation, Square to protest against corruption and unemployment, despite a vehicle ban that forced many to walk for hours to the heart of the Iraqi capital.
Al Jazeera's Jane Arraf reported from Baghdad that the situation was heading towards a stand-off, as security forces demanded the protesters leave, blocking their route across a bridge leading to the Green Zone, where the government has its base.
Concrete blocks were set up by authorities on all of Baghdad's bridges ahead of the protests.
"What we're seeing here is a bit of a test, of how the government will respond when these people clearly want their demands to be heard," Arraf said.