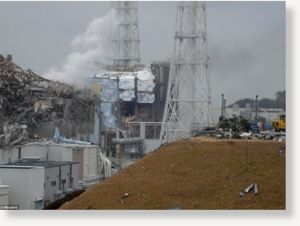 China urged Japan on Thursday to give the world prompt and accurate information about radiation leaks from a crippled nuclear plant, but said Tokyo had already been giving regular updates to Beijing.
Japan has stepped up efforts to cool the overheating Fukushima nuclear plant damaged by a massive earthquake and tsunami last week.
Officials fear that a major breakout of radioactive pollution from the complex could pose a health risk, and China and other nearby countries have stepped up monitoring of radiation levels.
So far, there have been no signs of abnormal radiation levels in China.
"The Japanese government has taken the initiative to report to relevant authorities in China on the nuclear leak situation at the Fukushima plant and the measures taken by the Japanese government via the Chinese embassy in Japan," said Chinese Foreign Ministry spokeswoman Jiang Yu.
"China and Japan have been in constant touch on this issue," she told a regular news briefing. "We hope that Japan tells the world what is happening on the site in a timely and accurate manner as well as their evaluation of and predictions for the situation as it develops.