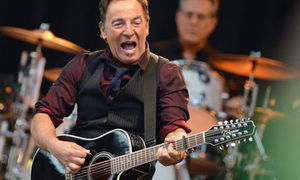 Rocker taps into anger at financial world, dedicating anti-bank song to 'those who are struggling in Europe and Berlin'
Bruce Springsteen has touched on a nerve of widespread discontent with financiers and bankers while performing a concert in Berlin.
Springsteen played to a sold-out crowd at Berlin's Olympiastadion, singing from his album Wrecking Ball and speaking about tough economic times that have put people out of work worldwide and led to debt crises in Greece and other countries.
"In America a lot of people have lost their jobs," said Springsteen, 62, who performed for three hours to 58,000 fans in the stadium that hosted the 1936 Olympics and 2006 World Cup final.
"But also in Europe and in Berlin, times are tough," he said, speaking in German. "This song is for all those who are struggling." He then introduced Jack of All Trades, a withering attack on bankers that includes the lyrics: "The banker man grows fat, working man grows thin."