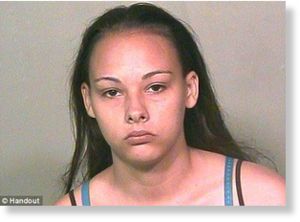 The parents of a malnourished baby have been charged with second-degree murder after the three-month-old died weighing just three pounds - half what she did at birth.
Oklahoma City Police initially charged local couple Alysha Marie Anderson, 19, and Miguel Antonio Soto, 20, with three counts of child neglect each.
But on Monday afternoon police confirmed the charges would be increased to second-degree murder, according to
Koco.com
.
Doctors called officers to Southwest Medical Center around 9.30am on Sunday claiming the severely underweight baby, Nicole Soto, had been a victim of neglect.
'They told officers the child was very, very thin and appeared to be malnourished,' Sgt. Jennifer Wardlow told
NewsOK
.
'They said the child was so thin you could actually see her ribs through her skin.'