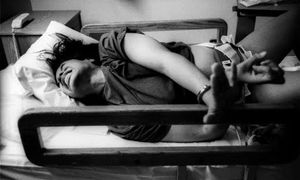 In 2007, a 17-year-old girl called Cora Fletcher was charged with retail theft. Over a year later, after she missed a court date, she was sent to the Cook County jail, in Illinois. She was eight months pregnant at the time.
During a pre-natal check-up at the facility, her baby appeared to have no heartbeat, so she was sent to the county hospital. As the medical team tried to induce her, Fletcher claims that both her hands and both her feet were
shackled
to either side of the bed. Only when she finally went into labor, three days later, was one hand and one foot released. It's hard to imagine a more crucifying way to force a woman to try to give birth.
Sadly for Fletcher, there was no payoff for the trauma and humiliation she was forced to endure, as her baby was born dead.
Fletcher was one of the plaintiffs in a class action lawsuit brought against Cook County on behalf of 80 female prisoners and detainees who also claimed to have had similar experiences of being shackled during childbirth. Just under two weeks ago, the county
agreed to a settlement
of $4.1m dollars payable to the women, who will each receive between $5,000 and $45,000.