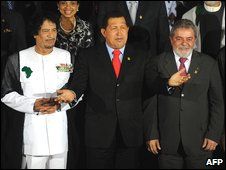 The leaders of Libya and Venezuela have called on Africa and South America to create a new alliance to counter Western dominance.
They were speaking at the second South America-Africa (ASA) summit held in the Venezuelan island of Margarita, attended by nearly 30 leaders.
Venezuela's Hugo Chavez called on the two continents to unite to secure prosperity for future generations.
Libya's Muammar Gaddafi said he was in favour of a military-style pact.