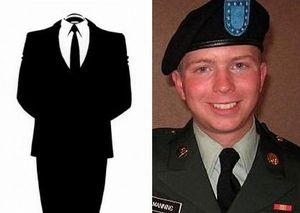 As army private Bradley Manning suffers for his alleged megaleak of secret documents to WikiLeaks, one group of hackers seems determined to make sure that others feel his pain.
Over the weekend, the loose hacker collective Anonymous declared that it will go on the offensive against those who are currently detaining Manning in a Quantico military brig, keeping him in solitary confinement and forcing him to strip nightly and stand at attention naked each morning.
In a crowdsourced document used to coordinate the group's actions, Anonymous members name Department of Defense Press Secretary Geoff Morell and chief warrant officer Denise Barnes as targets and call on members to dig up personal information on both, including phone numbers, personal histories and home addresses. The goal of the operation, for now, is to "dox" the two officials, the typical Anonymous method of publishing personal information of victims and using it for mass harassment.