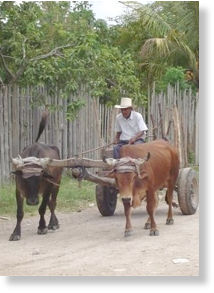 The deaths of 23 Honduran farmers involved in land disputes with UN-approved palm oil plantations are raising an international outcry against alleged "human rights abuses." EurActiv reports members of the European Parliament (EP) are planning an investigative mission to Honduras this month while others are calling for a ban on carbon credits to the plantations under the EU's Emissions Trading System (ETS). Additionally, it says the UN Clean Development Mechanism (
CDM
) is weighing its validation process which originally accredited the plantations, a process critics call "only rudimentary, completely unregulated and badly documented."
Protests erupted in July when six international human rights advocacy groups presented a report to the EP detailing what they called murders and forced evictions of peasants in El Bajo Aguán Valley of northern Honduras. The
International Federation of Human Rights
(FIDH) report accuses
UN-sanctioned palm oil mills of stealing farmland from Honduran natives and killing or wounding them when they attempt to defend their property. It says the companies, acting with government impunity, regularly target members of local land-rights movements who end up murdered in feigned car accidents or hunted down and shot by private security guards
.
Examples of the violence are gruesome. Security guards ambushed 15-year-old Rodving Omar Villegas near his village and shot him to death with an AK-47. A car ran down and killed 60-year-old Juan Ramon Mejia. And José Leonel Guerra Álvarez was murdered inside his home in front of his wife and children by armed assailants firing from outside the house.