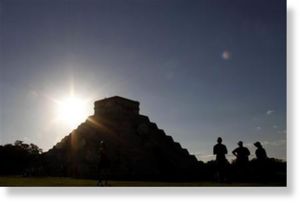 Merida, Mexico - In the darkness before dawn Friday, spiritualists prepared white clothes, drums, conch shells and incense ahead of the sunrise they believe will herald the birth of a new and better age as a vast, 5,125-year cycle in the Mayan calendar comes to an end.
No one was quite sure at what time the Mayas' 13th Baktun would officially end on this Dec. 21. Some think it already ended at midnight Thursday. Others looked to Friday's dawn here in the Maya heartland. Some had later times in mind.
"Wait until the dawn on the 22nd; that is when we Maya will speak," Nobel Peace Prize laureate Rigoberta Menchu said earlier in Guatemala, another Maya area.
Mexico's National Institute of Anthropology and History even suggested that historical calculations to synchronize the Mayan and Western calendars might be off a few days. It said the Mayan Long Count calendar cycle might not really end until Sunday.
Whatever the details, the chance to welcome a new time seemed to be the main concern among celebrants drawn to the Yucatan peninsula.
Many people who came to Yucatan for the occasion were already calling it "a new sun" and "a new era."
"The galactic bridge has been established," announced spiritual leader Alberto Arribalzaga at a "galactic connection" ceremony Thursday in Merida. "The cosmos is going to take us to a higher level of vibration ... where humanity is in glory, in joy,"
What nobody was calling it is the end of the world, as some people in recent years have interpreted the meaning of the end of the 13th Baktun - despite the insistence of archeologists and the Maya themselves it meant no such thing.
"We'll still have to pay taxes next year," said Gabriel Romero, a Los Angeles-based spiritualist who uses crystal skulls in his ceremonies.
If the chanting and dancing of a crystal skull ceremony held Thursday weren't end fears of an apocalypse, scientists chimed in, too.