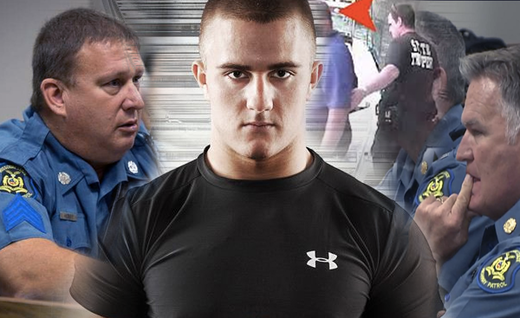 The Missouri Highway Patrol trooper who questioned the cops who killed Brandon Ellingson has just been slapped with a demotion. Sgt. Randy Henry refused to remain silent in the aftermath of Ellingson's death. He spoke out against the agency of the young Iowa man and has been disciplined for doing what everyone says "good cops" are supposed to do.
Now, Sgt. Randy Henry has been demoted to the status of corporal. He has further been moved from Lake of the Ozarks where he has been on patrol for almost thirty years. His superiors have transferred him away from the crime scene, to Truman Lake. Henry's attorney, Chet Pleban of St. Louis, referred to his client as a whistleblower.
In the days after Brandon Ellingson's death, Henry told investigators what Trooper Anthony Piercy told him the night a handcuffed Ellingson died. The college student was in Piercy's custody.
But Piercy's account later, as well as his testimony to a coroner's inquest, was different.
Henry also testified
in front of a legislative committee about minimal trooper training after the Water Patrol merged into the Highway Patrol in 2011.
"Randy Henry doesn't have a horse in the race," Pleban told The Star. "He's not on one side or the other. He has testimony to give that's material. The truth is the truth. He went to his superiors to say, 'This is wrong. This is what happened.' And they blew him off. So now here we are."