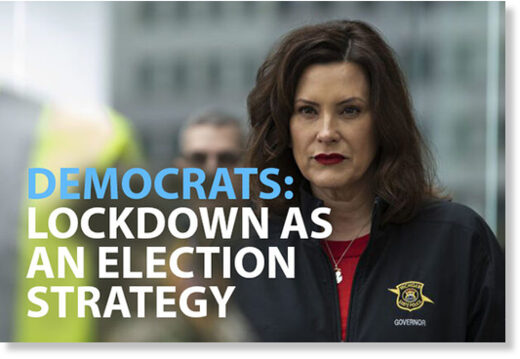 It's now becoming clear that one of the deciding swing issues of the 2020 Presidential Election is going to be COVID Lockdowns. Incredibly, Democrats are now openly attempting to convert Americans' pain and suffering into votes on Nov 3rd.
This week a Michigan Supreme Court ruled in favor of the people by effectively rebuking efforts by the state's Democrat Governor,
Gretchen Whitmer
, to impose a new state-wide lockdown supposedly to stop coronavirus.
Earlier this month, the court struck down Whitmer's initial decree to extend her COVID lockdown into the spring of 2021, but Governor's office was still determined to keep the state under lockdown and appealed for a stay of the court's decision.
It appears that a desperate
Whitmer had hoped to delay the Court's ruling going into effect for a further 21 days
- until
after
the General Election on November 3rd, but the Court saw through this maneuver and proceeded to reject Whitmer's attempted delay on Monday.
This latest legal drama confirms what many had already suspected - that some Democratic politicians are attempting to keep their states under lockdown until after the election, in effect, increasing the amount of economic and social pain and suffering - arguably a dangerous strategy designed to blame President Trump for the damage caused by the very policies championed by Democrats since the beginning of the pandemic.