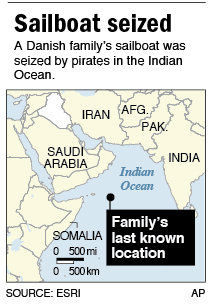 Copenhagen, Denmark - Any attempt to rescue a Danish family captured by pirates in the Indian Ocean will result their deaths - just like the four American sailors slain by their captors last week, a Somali pirate warned Tuesday.
Maritime experts said the Danes - a couple with three teenage children aged 12 to 16 - placed themselves in grave danger by sailing into pirate-infested waters off Somalia's lawless coast despite warnings from naval forces struggling to police the area.
The family was captured Thursday by pirates along with two Danish adult crew members after sending a distress signal from their sailboat, the Danish government said, adding it was doing "everything in our power" to help them.
Abdullahi Mohamed, a pirate who told
The Associated Press
he has ties to the gang holding the Danish family, said they will be killed if any rescue operation was carried out. He specifically referred to the killings last week of four American hostages captured by pirates on their yacht.