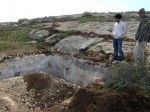 According to a report released yesterday Monday March 19 2012 by the United Nations Office for the Coordination of Humanitarian Affairs in the occupied Palestinian territory, the zionists jewish colonists have "seized" Palestinian Water Resources (dozens of natural springs) in the occupied West Bank, barring Palestinians and limiting their access to the scarce water in the area.
In addition to the zionist crimes and which the UN does not mention in their report, is that
the Israeli army and the so-called civil administration
, a military branch of the Israeli army, helps the Zionist squatters in their theft by declaring the locations of the Palestinian water sources as "military zones". To this end they have issued hundreds of military orders with the aims of perpetrating
genocide and ethnic cleansing against Palestinians
by barring them from living in their land or even reaching them, and so subjecting them to conditions which all but ensure their destruction as individuals and as a group. The occupiers have also declared hundreds of thousands of dunums which are rich in water and well supplied with springs as "state-land".