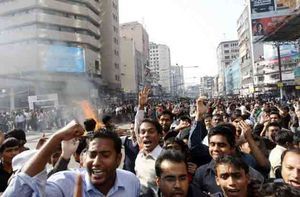 Angry investors take to streets as Dhaka's stock exchange crashes.
Police in Bangladesh used tear gas and water canons to disperse angry protests by crowds of small investors after a dramatic free-fall plunge on the country's stock market caused the authorities to suspend trading.
Hundreds of outraged investors took to the streets outside the stock exchange in the Motijheel neighbourhood of the nation's capital after the worst plunge in the country's history saw the Dhaka Stock Exchange (DSE) fall by 660 points, or 9.25 per cent, in less than an hour.
Chanting slogans that accused brokers and traders of manipulating stock prices and of the government of failing to properly regulate the situation, the small-scale investors smashed up cars, burned tyres and ran loose until police stepped in to break them up. There were other protests in smaller cities and towns. Four journalists were reportedly beaten by police.
Last night, with trading due to restart later today in both Dhaka and the country's second city, Chittagong, Bangladesh's prime minister, Sheikh Hasina, met with senior financial officials including the governor of the central bank, and ordered them to take steps to try and ease the crisis. The Securities and Exchange Commission (SEC), after an emergency meeting with the central bank, said trading - which was halted yesterday after just an hour - could resume.
But the crisis that began on Sunday, when the DSE's bench mark Dhaka Stock Exchange general index (DGEN) fell by almost 8 per cent, has long been smouldering. Last month there were similar demonstrations to those yesterday when the market fell by around 7 per cent, triggering panic among investors. Since early December, the index - which had climbed by more than 80 per cent in 2010 - has fallen by 27 per cent.