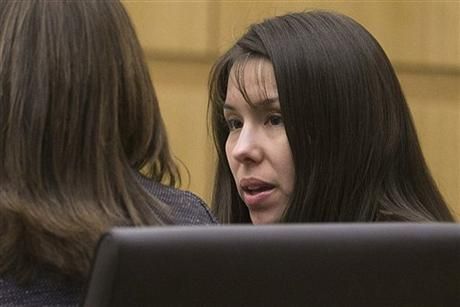 The photographs present a chilling portrait of sex and death.
A nude Jodi Arias on Travis Alexander's bed. A naked Alexander in the shower. Then minutes later, an image of Alexander stabbed and slashed nearly 30 times in the heart, back, hands and torso, shot in the head, his throat slit from ear to ear.
Other evidence has stacked up since the June 2008 attack in Mesa, a suburb of Phoenix. A bloody palm print; wildly conflicting stories; and, finally, a confession.
The evidence - including time-stamped photos from the day police say Alexander died - is being presented at a trial in Phoenix that's been dominated by the torrid affair, sex, jealousy and a defendant whose only chance at acquittal is to convince a jury she's the victim.
There's no question who killed the 30-year-old businessman and motivational speaker. Arias admits she stabbed and shot him, but claims she was defending herself against an abusive lover.
Alexander "lunged at Jodi in anger," her attorney, Jennifer Willmott, told jurors.
"Jodi's life was in danger. He knocked her to the ground in the bathroom where there was a struggle," Willmott said. "If she did not have to defend herself, she would not be here."