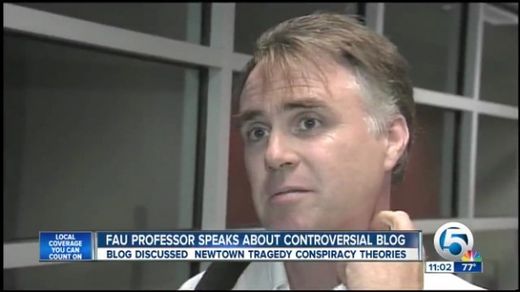 A communications professor from Florida Atlantic University isn't backing down from
his theory
that the mass killing of 20 children in Newtown, Connecticut may have never happened.
Writing on his Memory Hole blog last month, Professor James Tracy asserted that it was "not unreasonable to suggest the Obama administration [had] complicity or direct oversight of an incident that has in very short order sparked a national debate" on gun control.
"While it sounds like an outrageous claim, one is left to inquire whether the Sandy Hook shooting ever took place - at least in the way law enforcement authorities and the nation's news media have described," he declared, noting that no surveillance video of photos of bodies had been released by authorities.
"Moreover, to suggest that [President Barack] Obama is not capable of deploying such techniques to achieve political ends is to similarly place ones faith in image and interpretation above substance and established fact, the exact inclination that in sum has brought America to such an impasse."