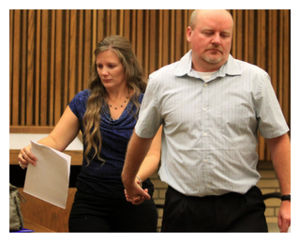 Nine months after their teenage son died of an infection from a burst appendix, a Creswell couple who chose prayer over medical care for the boy admitted criminal responsibility for his death.
Russel and Brandi Bellew each pleaded guilty on Tuesday in Lane County Circuit Court to charges of criminally negligent homicide, as part of an agreement with prosecutors.
The Bellews - who are members of a church that generally believes in using prayer instead of modern medicine to treat illnesses - avoided jail in the plea deal, but will spend the next five years on probation. During that time, they will be required to contact a doctor whenever any of their six surviving children suffer from an ailment that causes them to miss school for more than one day.
The Bellews were arrested in February after an autopsy revealed that 16-year-old Austin Sprout had died two months earlier from an infection that resulted from a ruptured appendix. The teen was Brandi Bellew's biological child and Russel Bellew's stepson.
The exact cause of Sprout's death had not been publicly disclosed before Lane County prosecutor Erik Hasselman detailed the case in court on Tuesday.
Sprout, who was a junior at Creswell High School, had been sick with a variety of cold- and flu-like symptoms for about 1½ weeks before he died, Hasselman said.
"The family, through their reliance on faith, ended up praying for his recovery," Hasselman said.
He added that the Bellews and their surviving children - who attend the General Assembly and the Church of the First Born in Pleasant Hill - told investigators that Sprout did not want a doctor to diagnose his illness.
"It appeared that (Sprout) wanted to respect his faith and the manner in which he was brought up," Hasselman said.
But under Oregon law, a person must be 18 or older to make decisions regarding his or her own medical care.