Greek workers walk off the job on Wednesday in a nationwide anti-austerity strike that will disrupt transport, shut public schools and tax offices and leave hospitals working with emergency staff.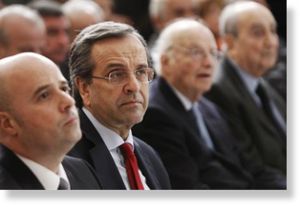 Greece's two biggest labor unions plan to bring much of the near-bankrupt country to a standstill during a 24-hour strike over the cuts, which they say only deepen the plight of a people struggling to get through the country's worst peacetime downturn.
Representing about 2.5 million workers, the unions have gone on strike repeatedly since Europe's debt crisis erupted in late 2009, testing the government's will to implement necessary reforms in the face of growing public anger.
"The (strike) is our answer to the dead-end policies that have squeezed the life out of workers, impoverished society and plunged the economy into recession and crisis," said the private sector union GSEE, which is organizing the walkout with its public sector sister union ADEDY.
"Our struggle will continue for as long as these policies are implemented," it said.
Prime Minister Antonis Samaras's eight-month-old coalition government has been eager to show it will implement reforms it promised the European Union and International Monetary Fund, which have bailed Athens out twice with over 200 billion euros.
It has taken a tough line on striking workers, invoking emergency law twice this year to order seamen and subway workers back to the job after week-long walkouts that paralyzed public transport in Athens and led to food shortages on islands.
But in a sign it is buckling under pressure, it announced on Monday it would not fire almost 1,900 civil servants earmarked for possible dismissal, despite promising foreign lenders it would seek to cut the public payroll.