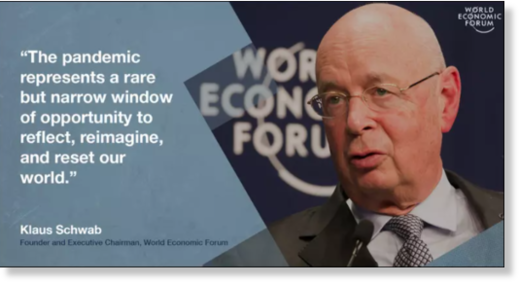 The World that Klaus Schwab, executive director of the World Economic Forum, wants us to rubber stamp is a 100% dystopian nightmare.
In fact, if one was to write a film script about the worst of all outcomes for the human race and planet, Schwab's 'Great Reset' dream would perfectly fill the bill.
Everything that moves and breathes is to be sanitised, anaesthetized and digitalised proclaims the WEF White Paper of October 2020. This is the way to turn the world 'Green' according to Schwab and his team of technocratic trolls. Well, most of us will turn green just by reading this WEF master-plan for humanity "Resetting the Future of Work Agenda in a post Covid World" so there's really no need to bother with its implementation, is there?
The inventory of fake green huey to be found within the pages of this paper goes back to the Club of Rome (founded 1968) coming up with the idea that for the elite to maintain their grip on world affairs, some scary story threatening the end of life on Earth was needed.
So the idea of Global Warming was hatched to fit this need. It also had the advantage of being a money spinner via the invention of 'carbon taxes' and deployment of a whole new fake green infrastructure under the title 'The Fourth Industrial Revolution'. Yes, a truly inspiring control package was put together - just waiting for a suitable moment to be rolled-out across the world.