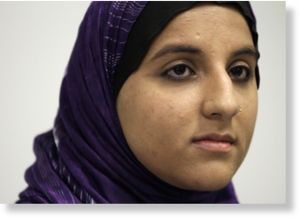 A former stockroom worker for Abercrombie & Fitch Co. sued the clothing retailer in federal court Monday, saying she was illegally fired after refusing to remove her Muslim headscarf while on the job.
Hani Khan said a manager at the company's Hollister Co. store at the Hillsdale Mall in San Mateo hired her while she was wearing her hijab. The manager said it was OK to wear it as long as it was in company colors, Khan said.
Four months later, the 20-year-old says a district manager and human resources manager asked if she could remove the hijab while working, and she was suspended and then fired for refusing to do so.
It's the latest employment discrimination charge against the company's so-called "look policy," which critics say means images of mostly white, young, athletic-looking people. The New Albany, Ohio-based company has said it does not tolerate discrimination.
Still, Abercrombie has been the target of numerous discrimination lawsuits, including a federal class action brought by black, Hispanic and Asian employees and job applicants that was settled for $40 million in 2004. The company admitted no wrongdoing, though it was forced to implement new programs and policies to increase diversity.