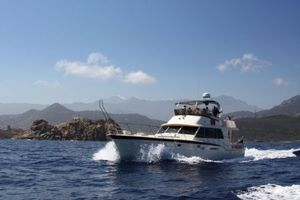 A French ship carrying humanitarian aid and six people on board has set sail from the port city of Corsica to join a Gaza-bound flotilla.
The ship flying the French flag named
Dignité
(
Dignity
) headed for the coastal waters of Greece on Saturday to join up with the rest of the participants in the flotilla.
The entire fleet will sail for Gaza next week from various Mediterranean ports, French coordinator Julien Rivoire told AFP.
Ships, including two freighters carrying medical supplies "should reach the port of Gaza at the end of next week," he added.
Activists from more than 30 countries plan to sail aboard the ships to the Gaza Strip to deliver humanitarian assistance to the besieged people of Gaza in the near future.
The Israeli Navy has already declared that it will not allow the new flotilla to break the blockade on the impoverished Gaza Strip.