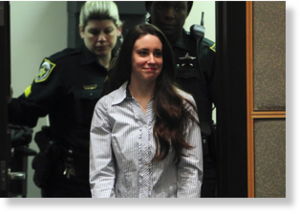 Babies and children are killed by their parents and caregivers every day. So what's the big deal about Casey Anthony's case?
Forbes Magazine
's women's writer, Kiri Blakeley, points to the number of African American babies and children murdered this winter and spring as ample reason why the Casey Anthony murder trials deserves little attention.
In Blakeley's mind, all children murdered by their caregivers and parents deserve national media attention. Children like Caylee Anthony and Jon Benet Ramsey get far too much attention, Blakely argues.
And while most people are long past their grief for the murdered daughter in the Caylee Anthony murder trial, Casey Anthony's denial and her inability or refusal to admit guilt (or relay any information at all) about her daughter's death, brings people from all over the nation into the Florida courtroom to witness this trial.
When the nation is shocked or fascinated with a person and an incident, they are also shocked by the complete disconnect and lack of empathy that the accused displays while proclaiming innocence.
Scott Peterson, to date, is the strongest example of presumed and declared innocence in such murder trials. For as long as he could, Peterson ran a baton race with the basic and fundamental right of any US citizen---he was innocent until proven guilty.