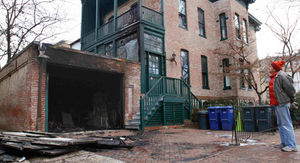 A veteran congressional aide who worked most recently as a lobbyist and was married to a senior White House legislative affairs official was found dead in her car Monday behind the couple's Capitol Hill home following a low-speed car crash and subsequent fire.
Ashley Turton, whose husband, Dan, is the White House's deputy director of legislative affairs for the U.S. House, died in the early-morning incident in the garage behind 800 A Street SE, friends, her employer and congressional leadership aides said. City fire and police units responded to the vicinity of the home at about 5 a.m. Monday, according to fire department spokesman Pete Piringer.
"It had heavy smoke and fire conditions in a garage - an attached garage of a 2 and ½ story rowhouse," Piringer said. "The homeowner initially indicated that everyone in the house was accounted for. Firefighters were able to quickly knock down the bulk of the fire during the firefighting operation, but they did find an adult occupant of the vehicle [in the garage] deceased."