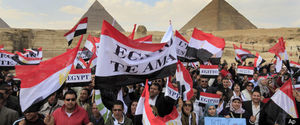 Cairo - Egypt's military rulers called for an end to strikes and protests Monday as thousands of state employees, from ambulance drivers to police and transport workers, demonstrated to demand better pay in a growing wave of labor unrest unleashed by the democracy uprising that ousted Hosni Mubarak's regime.
The statement by the ruling military council that took power from Mubarak appeared to be a final warning to protest organizers in labor and professional unions before the army intervenes and imposes an outright ban on gatherings, strikes and sit-ins.
Soldiers cleared out almost all the remaining demonstrators from Cairo's Tahrir Square, the giant traffic circle that was turned into a protest camp headquarters for the 18-day revolt. During more than two weeks of round-the-clock demonstrations at the square, protesters set up tents, brought in blankets, operated medical clinics and festooned the entire plaza with giant banners demanding removal of the regime.
At the height of the uprising, hundreds of thousands packed the downtown crossroads.