Society's Child
"Please help us save the children, the children of Fukushima"


---

The company that is seeking permission to build a new crude oil pipeline between Canada and the U.S. Gulf Coast has wildly underestimated the damage that could occur in a worst case spill scenario, a University of Nebraska researcher warned this week.
Even a small, undetected leak from an underground rupture of the pipeline in the Nebraska Sandhills
could pollute almost 5 billion gallons of groundwater with benzene at concentrations exceeding safe drinking water levels,
" University of Nebraska researcher John Stansbury said.
TransCanada's proposed Keystone XL pipeline would would carry 700,000 gallons of Canadian crude per day from the tar sands area of Western Alberta to refineries on the U.S. Gulf Coast. Along the way, the 36 inch diameter pipe would cross important waterways, including the Missouri and Yellowstone Rivers in Montana, the Platte River in Nebraska and the Sandhills, where highly permeable soil covers the enormous Ogallala aquifer.
---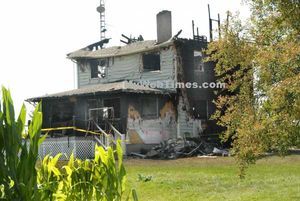 La Salle County authorities believe the deaths of a mother and her two sons in a house fire Thursday in rural Streator were a murder-suicide.
Jennifer Shepard, 36, and her sons, Jordan, 11, and Jake, 9, were found dead by firefighters in an upstairs bedroom of their home Thursday afternoon following a fire that was believed to be intentionally set by the mother.
Preliminary autopsy results Friday revealed the boys were stabbed and the mother had cuts on her arms. A knife was found at the scene and is believed to be involved in the incident.
Authorities found evidence of an accelerant in the house, located four miles east of Route 23 on 18th Road.
Bernard said information from her office's forensic investigation and evidence recovered from the fire affirmed the deaths of the two boys were the result of homicide and the death of Jennifer to be suicide.
Coroner Jody Bernard said the actual cause of death awaits further forensic testing and toxicology results.
---
Mexican authorities say at least 12 state police officers and a bystander have been killed in an ambush on a highway in Mexico's western state of Sinaloa.

Sinaloa state security officials say the attack happened around 6 p.m. Friday at a fake checkpoint set up by gunmen on the highway near the town of Guasave.

The police convoy was traveling from Los Mochis, a Pacific coastal city where the officers helped launch a "Safe Commerce" program aimed at averting attacks on merchants.

Officials say the slain bystander was driving from a nearby tortilla stand where he works and got caught in the crossfire.

An attack on police earlier in the day in Los Mochis wounded two police officers.

Source: The Associated Press
---
Dunfermline has been reacting to the news that a man's body was found in the High Street on Thursday.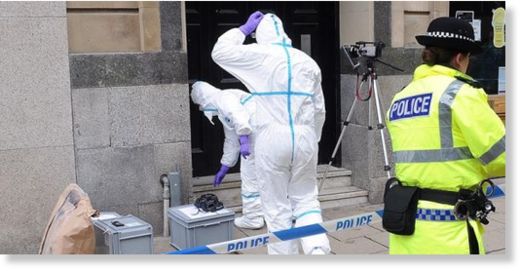 Police are treating the death as "unexplained." It was the third sudden death in the west Fife town in only five days.
It follows the deaths of local men James Drysdale (36) and Derek Neilson (32) on Sunday.
Early-morning shoppers and retail workers in the town centre were shocked to find a huge police presence as Fife Constabulary carried out their investigation work. It is believed the body was found in a close off the High Street at about 6.45am.
The man's remains were found in the alley at 100 High Street, between the Nationwide Building Society and a Mountain Warehouse outlet. Both remained closed for some time as the police inquiry swung into action.
---
Police are investigating the unexplained deaths of a man and woman in County Durham after post-mortem examinations drew a blank.

James McAndrew, 51, and Helen Swan, 36, were discovered in the living room of a terraced house in John Street, Blackhill, Consett, early on Monday.

They were found fully-clothed on a sofa as if they had fallen asleep while watching television.

Relatives reported that the two looked peaceful and that there was no sign of a struggle having taken place.
---
Nicholas Kusnetz
ProPublica
Thu, 14 Jul 2011 13:04 UTC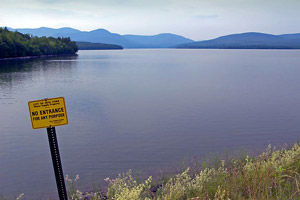 The latest draft of guidelines for hydraulic fracturing in New York could open the door to drilling within 1,000 feet of aging underground tunnels that carry water to New York City - a far cry from the seven-mile buffer once sought by city officials.
The draft
environmental impact statemen
t, released last week by state officials, is a crucial step toward allowing high-volume hydraulic fracturing, or fracking, in New York. The gas drilling technique was put on hold three years ago so the state could assess any environmental effects of the practice.
If the proposal is adopted in coming months, the state would allow drilling near aqueducts but would require a site-specific environmental review for any application to drill within 1,000 feet of the water supply infrastructure.
That's not enough to protect New York City's water, said Kate Sinding, a senior attorney with the Natural Resources Defense Council, which is based in the city.
---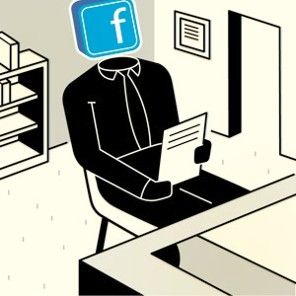 A friend hunts deer in Germany. His Facebook profile shows him hoisting a rifle in the air. Another friend wrote on Twitter last month, "On plane. Just took Ambien. Twitter is my dreams. You are all glue. Happy birthday cellphone!"
Innocent pursuits perhaps: The Ambien was prescribed; the rifle is licensed.
Even so, my friends would likely fail a social media background check.
Like criminal background checks and drug tests, the social media check is quickly becoming an automatic part of the hiring process. Employers regularly run quick Google searches to vet applicants, but since September, California-based Social Intelligence has been contracting with corporations across the country to institute standard social media background checks - with the blessings of the federal government.
---
Jeff Wilson
Bloomberg
Fri, 15 Jul 2011 14:15 UTC
Soybeans rose, heading for the longest rally since 2007, and corn climbed to a one-month high on speculation that hot, dry weather will reduce crop yields in the U.S., the world's leading exporter.

High temperatures will rise to as much as 12 degrees Fahrenheit above normal for seven days starting tomorrow in the Midwest, Mike Tannura, the president of T-storm Weather LLC, said in a telephone interview. As much as 46 percent of the corn crop and 44 percent of soybeans have drier-than-normal topsoil, and the adverse conditions may extend into August, he said.

"Hot, dry weather will rob yield potential," Don Roose, the president of U.S. Commodities Inc. in West Des Moines, Iowa, said in a telephone interview. "The crops are getting smaller, and we don't have any excess inventories to offset the losses."
---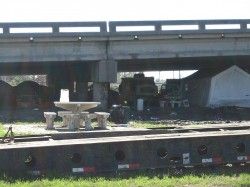 Economic despair is beginning to spread rapidly in America. As you read this, there are millions of American families that are just barely hanging on by their fingernails. For a growing number of Americans, it has become an all-out battle just to be able to afford to sleep under a roof and put a little bit of food on the table. Sadly, there are more people than ever that are losing that battle. Tonight, tens of thousands of formerly middle class Americans will be sleeping in their cars, even though that is illegal in many U.S. cities. Tens of thousands of others will be sleeping in tent cities or on the streets. Meanwhile, communities all over America are passing measures that are meant to push tent cities and homeless people out of their areas. It turns out that once you lose your job and your home in this country you become something of an outcast. Sadly, the number of "outcasts" is going to continue to grow as the U.S. economy continues to collapse.
Most Americans that end up living in their cars on in tent cities never thought that it would happen to them.
An article in
Der Spiegel
profiled one American couple that is absolutely shocked at what has happened to them....
Chanelle Sabedra is already on that road. She and her husband have been sleeping in their car for almost three weeks now. "We never saw this coming, never ever," says Sabedra. She starts to cry. "I'm an adult, I can take care of myself one way or another, and same with my husband, but (my kids are) too little to go through these things." She has three children; they are nine, five and three years old.

"We had a house further south, in San Bernardino," says Sabedra. Her husband lost his job building prefab houses in July 2009. The utility company turned off the gas. "We were boiling water on the barbeque to bathe our kids," she says. No longer able to pay the rent, the Sabedras were evicted from their house in August.
How would you feel if you had a 3 year old kid and a 5 year old kid and you were sleeping in a car?
---