A large sheen of oil that has confounded the Coast Guard and state officials for days has been traced to a well-capping accident about 20 miles southwest of Southwest Pass, a state official said.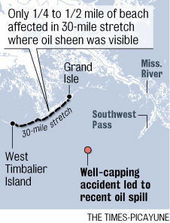 Meanwhile, environmentalists reported new, unconfirmed sightings Tuesday of what appeared to be surface oil over several miles in Chandeleur Sound, all the way on the other side of the Mississippi River's delta.
A state official, speaking on condition of anonymity because of a continuing Coast Guard investigation, said the Department of Wildlife and Fisheries traced the emulsified oil on the west side of the river to its apparent source at West Delta Block 117. He said tests by a state-contracted lab confirmed that was the source of the oil.
Three discharges of oil from Anglo-Suisse Offshore Partners' Platform E facility were reported to the Coast Guard, records show. The first came Friday, with a report of a "downed platform" and half a gallon of spilled crude during operations to plug and abandon the well.