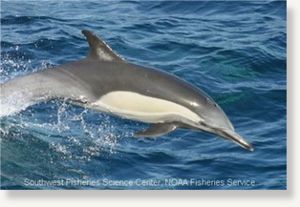 Navy training off the Silver Strand has been linked to the deaths of at least three dolphins in the area and may be responsible for two more, the
National Marine Fisheries Service
said on Friday.
Fisheries agency leaders said they will take another look at the Navy's pending request to
disturb
marine mammals
between
Imperial Beach
and Coronado, where the Navy runs what it calls "a realistic venue for amphibious training and special warfare tactical training in the coastal environment." The existing application - which has been in the works for years - doesn't anticipate dolphin deaths related to training, and that premise is now in question.
The fisheries service also has opened an enforcement case. A central question is whether the Navy violated the Marine Mammal Protection Act of 1972, a landmark law designed by Congress to safeguard dolphins, whales and similar creatures.