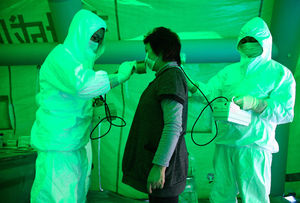 Countries across the world shunned Japanese food imports Thursday as radioactive steam leaked from a disaster-struck nuclear plant, straining nerves in Tokyo.
The grim toll of dead and missing from Japan's monster quake and tsunami on March 11 topped 26,000, as hundreds of thousands remained huddled in evacuation shelters and fears grew in the megacity of Tokyo over water safety.
The damage to the Fukushima nuclear plant from the tectonic calamity and a series of explosions has stoked global anxiety. The United States and Hong Kong have already restricted Japanese food, and France wants the EU to do the same.
Russia ordered a halt to food imports from four prefectures -- Fukushima, Gunma, Ibaraki and Tochigi -- near the stricken plant 250 kilometres (155 miles) northeast of Tokyo.