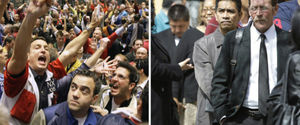 New York -- Despite high unemployment and a largely languishing real estate market, U.S. businesses are more profitable than ever, according to federal figures released on Friday.
U.S. corporate profits hit an all-time high at the end of 2010, with financial firms showing some of the biggest gains, data from the federal Bureau of Economic Analysis show. Corporations reported an annualized $1.68 trillion in profit in the fourth quarter. The previous record, without being adjusted for inflation, was $1.65 trillion in the third quarter of 2006.
Many of the nation's preeminent companies have posted massive increases in profits this year. General Electric posted worldwide profits of $14.2 billion, while profits at JPMorgan Chase were up 47 percent to $4.8 billion.