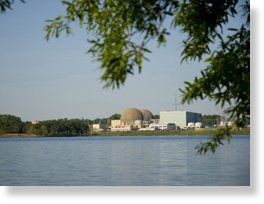 A nuclear power plant that was shut down after an earthquake struck central Virginia Tuesday had seismographs removed in 1990s due to budget cuts.
U.S. nuclear officials said that the North Anna Power Station, which has two nuclear reactors,
had lost offsite power
and was using diesel generators to maintain cooling operations after an 5.9 earthquake hit the region.
The North Anna plant, which was near the epicenter of Tuesday's quake, is
reportedly
located on a fault line.