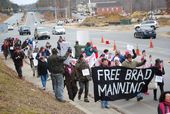 A United Nations diplomat charged with investigating claims of torture said Monday that he is "deeply disappointed and frustrated" that U.S. defense officials have refused his request for an unmonitored visit with Pfc. Bradley Manning, the Army intelligence analyst accused of passing classified material to WikiLeaks.
Juan E. Mendez, the U.N. special rapporteur on torture, said his request for a private interview with Manning was denied by the Defense Department on Friday. Instead, he has been told that any visit must be supervised.
Mendez has been seeking to determine whether Manning's confinement at a military brig at Quantico amounts to torture, following complaints about his treatment and an incident in which the private was forced to strip in his cell at night and sleep without clothing.
"My request . . . is not onerous: for my part, a monitored conversation would not comply with the practices that my mandate applies in every country and detention center visited," Mendez said in a statement Monday, noting that at least 18 countries have allowed unmonitored interviews.