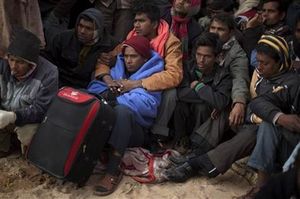 Ras Adjir, Tunisia - Thousands of migrant workers were on the move in Libya on Saturday, trying to flee the fighting between rebels and forces loyal to Moammar Gadhafi's regime, U.N. refugee agency officials said.
Most of the thousands of foreign workers in Libya's rebel-held port of Benghazi were evacuated, the officials said, and about 10,000 others inside Libya were heading for a border crossing at Salloum, Egypt.
At the Libya-Tunisia border, thousands spent the night in a 20,000-capacity tent camp, awaiting evacuation. Some of those coming from Libya in the past two days said they had attempted the journey before but were held back by heavy fighting along the way.
There has been a marked drop in the number of migrant workers coming across the border, from a peak of 20,000 several days ago to between 1,400 and 1,800, the U.N. said. On Saturday, only 500 had crossed into Tunisia by midday, said a U.N. official at the border.