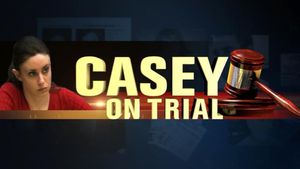 Orange County, Fla. -- Day 15 of Casey Anthony's murder trial began on Friday with the defense's motion to renew a motion for a mistrial, being denied, and a witness describing Casey's relationship with her daughter as, "amazing."
Casey Anthony entered the courtroom just before 8:30am, wearing dark pants and a black vest over a white shirt. She had her hair pulled back in a bun.
Chief Judge Belvin Perry quickly denied the defense's motion that Casey's lead attorney, Jose Baez, filed Thursday morning at 8:30am to renew a motion for a mistrial.
Judge Perry then called court to order at 9:00am.
The fiancee of Casey's brother, Lee Anthony, testified on Thursday that Casey had an "amazing" relationship with her 2-year-old daughter, Caylee, who she is accused of killing.
Mallory Parker testified Friday that Casey had a special bond with Caylee.