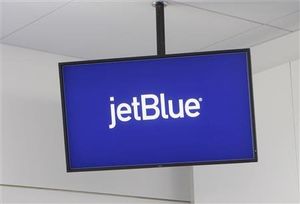 A JetBlue flight to Las Vegas was diverted to Texas on Tuesday due to what the airline described as a "medical situation" involving the captain -- who one witness said had to be restrained after he pounded on the locked cockpit door.
The FBI said it responded to the scene in Amarillo, Texas, and was looking into the incident on Flight 191 from New York. JetBlue said the pilot-in-command elected to divert the flight from New York carrying 135 passengers due to "a medical situation involving the captain."
"Another captain, traveling off duty, entered the flight deck prior to landing at Amarillo, and took over the duties of the ill crew member once on the ground," the statement said.
The ill crew member was removed from the aircraft and taken to a local medical facility, JetBlue said. The plane, which took off from John F. Kennedy International Airport in New York, had been scheduled to land at McCarran International Airport in Las Vegas.