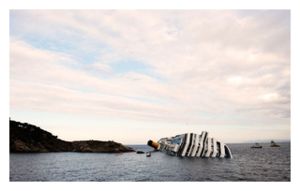 What has to be the one thing a passenger of the ill-fated Costa Concordia doesn't want? Next to ever
having to hear
Celine Dion's "My Heart Will Go On" again, it would have to be setting foot on the deck of another Costa Cruises ship.
But a future voyage at sea is precisely what parent company Carnival Corp is offering survivors of the cruise liner that had to be evacuated in the middle of the night before it sank off the shores of the Italian island of Giglio. In an attempt to stem the tide of personal injury lawsuits with which the world's largest cruise operator is about to be slapped, Carnival has put an offer on the table.
Perhaps an all-expenses-paid voyage to a choice of any of the cruise line's ports? No? OK, so maybe not free but heavily discounted, right?
What are we talking here? Seventy-five percent off? Fifty percent?
Try 30.
"The company is trying to do everything they can for those passengers directly affected," said a spokesman for Costa Cruises. "The company is not only going to refund everybody but they will offer a 30 per cent discount on future cruises if they want to stay loyal to the company."