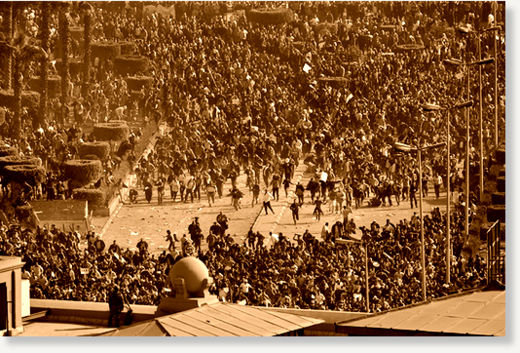 What it is aint exactly clear...
But let's try and get some perspective anyway.
The peaceful mass demonstrations in Egypt over the past ten days against dictator Hosni Mubarak turned into a pitched battle on February 2 when coordinated groups of "pro-government supporters" armed with knives, spears and machetes attacked the streets leading to Tahrir Square in downtown Cairo and began throwing rocks at the protesters and systematically attacking journalists. They were supported by a cavalry charge of sorts as maniacs on horses and camels plowed into the crowds, lashing out wildly with their horsewhips. The coordinated nature of the assault was unmistakable as these "pro-government supporters" next sought vantage points on rooftops overlooking the masses of protesters and hurled Molotov cocktails and rocks in every direction. Their fury and stark raving psychopathology stands in total contrast to the millions of peaceful protesters we've seen on the streets of Egypt's cities over the past week; organising neighbourhood watches, street-cleaning operations and security checkpoints to screen for the "pro-Mubarak supporters" and to detain the undercover policemen
disguised as looters
.
I'll clarify something here that mainstream pundits seem a little hazy on: there are no "pro-Mubarak supporters". Their numbers are predominantly made up of the police and security services that had disappeared from the city center on the third day of the revolution when the protesters
chased them
back across the October 6th bridge spanning the Nile river. They're joined by desperate youths enticed by promises of thirty pieces of silver and
thousands of prisoners
released from jails during the initial chaos on January 25. Mubarak's intention is for these neanderthals to create mayhem that will necessitate directing the enormous Egyptian army to finally do something about the "fighting between both sides." It's the old story of 'divide and conquer'.