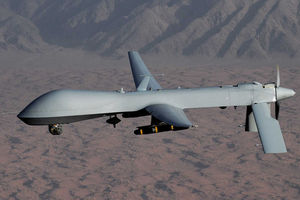 Fourteen anti-war activists may have made history today in a Las Vegas courtroom when they turned a misdemeanor trespassing trial into a possible referendum on America's newfound taste for remote-controlled warfare.
The so-called Creech 14, a group of peace activists from across the country, went on trial this morning for allegedly trespassing onto Creech Air Force Base in April 2009.
From the start of today's trial, prosecutors did their best to keep the focus on whether the activists were guilty of allegations they illegally entered the base and refused to leave as a way to protest the base's role as the little-known headquarters for U.S. military operations involving unmanned aerial vehicles, or drones, over Afghanistan, Iraq and Pakistan.
But a funny thing happened on the way to prosecutors' hope for a quick decision.
Appearing as witnesses for the Creech 14 today were some of the biggest names in the modern anti-war movement: Ramsey Clark, former U.S. attorney general under President Lyndon Johnson; Ann Wright, a retired U.S. Army colonel and one of three former U.S. State Department officials who resigned on the eve of the 2003 invasion of Iraq; and Bill Quigley, legal director for the New York City-based Center for Constitutional Rights.