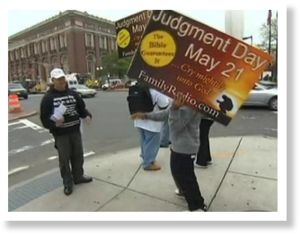 The prophecy of the end of the world ended with a whimper, not a bang on Saturday as life went on as usual despite warnings of Judgment Day by a US preacher which provoked panic in some quarters and parties in others.
Televangelist Harold Camping had insisted the so-called 'Rapture' would begin with powerful earthquakes at 6pm local time in each of the world's regions, with worthy souls transported to heaven.
According to the 89-year-old and his religious broadcasting network Family Radio, the not-so-good were to suffer hell on earth until October 21, when God pulls the plug on the planet once and for all.
One of the first places to be hit, according to Camping, who first wrongly predicted the end of the world in 1994, would be New Zealand - but 6pm came and went with no earthquakes and little local media attention.
Similarly in Europe and the United States, the deadline arrived with little fanfare, and even fewer people ascending dramatically to heaven.