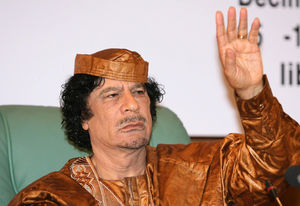 At least 24 protesters have been killed and hundreds wounded in Libya during anti-government demonstrations, demanding the ouster of Muammar Gaddafi, Human Rights Watch (HRW) says.
Thousands of anti-government demonstrators have flooded the streets of Libya's eastern city of Benghazi, as the wave of protests spread across North Africa and the Middle East.
Clashes have been reported between security forces and protesters. In the nearby eastern town of Benghazi al-Baida, people were bringing tents to camp out on the streets, Reuters reported on Friday.
Some pro-government activists have also been reported on the streets shouting slogans in support of Gaddafi.
In defiance to warnings by government forces against demonstrations, thousands of protesters took to streets of Benghazi and al-Baida on Thursday. At least six people were killed and more than forty were reported injured.