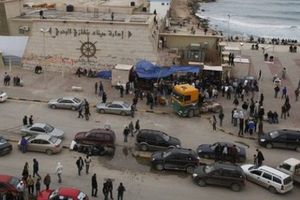 The Libyan government vigilantes and snipers struggle to regain control of the capital after pro-Gaddafi forces lost several cities to revolutionary protesters.
Reports say the revolution flag is now flying over Tajuraa city close to Tripoli. The western cities of Zwaara and Azzawiya are also under the control of the protesters.
This comes as more and more soldiers are now joining the popular revolution.
Anti-government protesters have also overrun the eastern province of Cyrenaica. This follows the fall of the second largest city of Benghazi.
Soldiers in the coastal town of Tobruk say Gaddafi's forces have lost control of the region. They say they no longer back the Libyan ruler. Tobruk lies close to the Egyptian border.