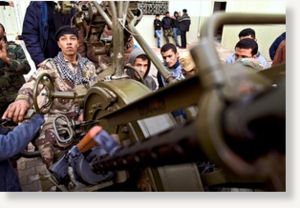 Gadhafi Opponents Are Seen Moving Out of Benghazi; Pentagon Orders Two Warships to Mediterranean
A ragtag army of opponents to Col. Moammar Gadhafi began moving west toward Tripoli from the east and the U.S. ordered two warships to the Mediterranean Sea, as the prospect of an extended war loomed over Libya.
A convoy of armed youth, including what appeared to be rebel military forces, was seen heading Tuesday night toward the pro-Gadhafi stronghold city of Sirte, witnesses said. The forces were viewed passing westward through Ajdabiya, a city about 75 miles from the opposition stronghold of Benghazi, said four residents, including a volunteer rebel soldier and an official on the city's local leadership council. It was unclear how many rebels were on the move.
Also Tuesday, the U.S. ordered two warships and 1200 Marines to the waters off of Libya, but a top Obama administration official stopped short of saying the forces would intervene in the clashes that have consumed the country following anti-Gadhafi protests here in recent weeks.
At a Pentagon briefing, Defense Secretary Robert Gates announced he had ordered to the Mediterranean the USS
Ponce
and the USS
Kearsarge
, an amphibious-assault ship that typically carries infantrymen and troop-transport helicopters. Those ships currently have 800 marines, in addition to 400 U.S.-based Marines who will be airlifted to meet the ships. He said the ships would be ready to perform evacuations and humanitarian relief.