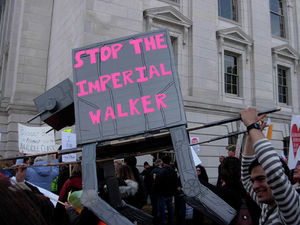 Updated 7:51PM ET -- Wisconsin state police say they will make no forcible removals of protesters from the state Capitol on Sunday evening.
"A decision has been made to do what they've been doing all week long and that is to do everything to keep things peaceful and keep people safe," Peg Schmidt, spokeswoman for the police command in the Capitol, told the
Wisconsin State Journal
Sunday evening. "There's not going to be any forcible removal."
Officials say they hope to clear the building through voluntary compliance, though the possibility of protesters leaving of their own volition seems nebulous at best. Protesters continue to sing and chant "We Shall Overcome" and engage in ad hoc drumming (choppy video of the singing taken using a mobile phone follows this article).
Around 5pm ET, Capitol Police Chief Charles Tubbs told the
Wisconsin State Journal
that law enforcement "would monitor the gathering for at least the next hour."
"We're still working with organizers and looking for voluntary compliance," Tubbs said. "No arrests have been made at this point. At this point, we haven't made any decision on whether to arrest people."